Brooke's Angel wings took flight officially on October 18th when an amazing article ran about Brooke's story on The Creative Mama website, the support has been incredible. Along the way I have made instant connections with some women with hearts of gold. I'm not kidding, you could just cash them in – they would bring in the top prices for gold, seriously! One of these women blogs about life in the most fascinating way. She does not hold back and she speaks the utter truth, a quality that I admire. Without me asking, she has spread the word about our important message to her friends, family and readers. She has advertised our jewelry for us and even explored ways for us to continue to spread our message around the world. I am thrilled to introduce Evin of "Food Good, Laundry Bad" – a humorous, entertaining and truthful blog (trust me, you will read with a smile)!
Thank you Evin for this post and readers please check out her awesome blog!
I was super stoked when Laurie asked to repost the article I wrote about her and Brooke to her blog – I'm glad she liked what I had to say so much! Instead of rehashing the same old stuff, I offered to write a whole new post for her and link back to the post I wrote!
Here's the post I wrote on my own blog, Food Good Laundry Bad, called Asking for Your Help… go have a read.
In that post you might notice that I mention that Laurie isn't working any more. Think about that… You go from a household with 2 incomes and 2 healthy kids, to 1 income, smaller than before, and 2 kids, one with insane medical expenses AND you are just trying to survive and pay the mortgage. You are 3 months behind of the mortgage, afraid of losing your home and it's Christmas!! If I could just write a check and make it all better, I would. I bet you would, too.
Here's what we can do.. find somebody who CAN write a check. Oprah's gone (boo! I love Oprah) but Ellen is fast filling her stilettos. Only in sneakers. Cuz Ellen doesn't wear stilettos. Cuz she's awesome and pointy shoes are dumb. I digress.
So here's what we're doing.. campaigning to get Brooke and Laurie on Ellen. How? Ellen's website! I've even made it easy for you..
If you want to help Ellen find Laurie and Brooke, please go HERE and put in your info, and then just copy and paste this in:
Dear Ellen,
Please consider having Laurie Rahn and her daughter
Brooke on your show. When Brooke was 3, she pulled a dresser down on
herself, crushing her skull. She's 5 now, and miraculously, she's fine.
Laurie and Brooke are doing everything they can to spread the word about
how important it is to secure your furniture to the walls when you have
young children in the home. Due to Brooke's accident, the family has
crushing debt, and Laurie and Brooke are selling beautiful handmade
jewelry on Etsy to try to dig out of the hole. To read more, please
visit Brooke's Angel Wings site, here: www.brookesangelwings.com

Thank you!
There ya go!  Of course, if you haven't yet, now is a great time to buy some beautiful jewelry from Brooke and Laurie.. and if you have, don't you want to add to the collection? This is new and soooo purdy…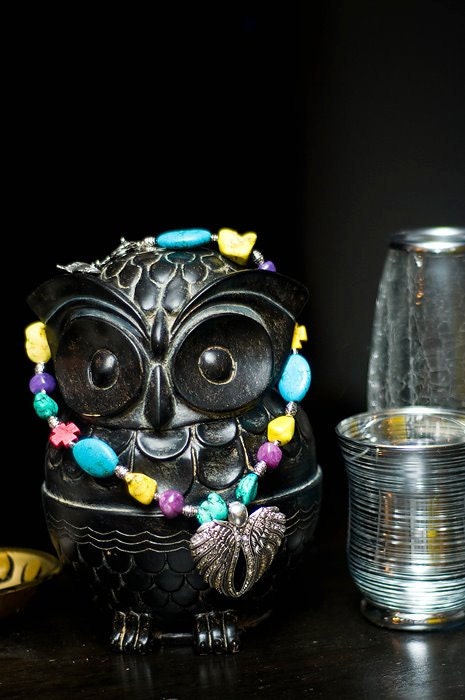 Thanks Laurie for letting me be your guest today!!
Evin – Food Good Laundry Bad
*******************
–
"Promise me you'll always remember: You're braver than you believe, and stronger than you seem, and smarter than you think." ~Christopher Robin to Pooh
"Fate rarely calls upon us at a moment of our choosing" – Optimus Prime